The PERFECT Dress
This dress was absolutely perfect for the most perfect day. I was extremely nervous to purchase a large dollar-valued item online, but the process was smooth, easy and the Olivia Bottega team gave me comfort in knowing I was going to have exactly what I wanted for the big day. Kate was extremely pleasant to work with and answered any and all questions I had throughout the process of my dress being purchased, made and shipped. Every detail on this dress is gorgeous and yes, it is a bit heavy but absolutely worth it. The amount of compliments I have received (wedding day & beyond) on how incredible this dress is, has been overwhelming - in a good way!
Thank you again for making this special day one that I will remember forever!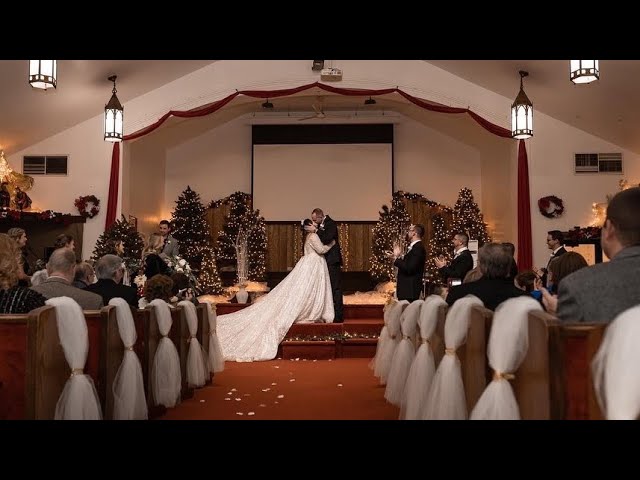 This is the princess dress dreams are made of!
I just received my dress and I was SO relieved to find it was EXACTLY as I expected it to be. I was so nervous to order because there weren't a lot of reviews for the dress and because it was coming from so far away. The team communicated with me any time I had any questions, and sent me a video of the dress before they shipped it. Even then I was worried the dress I got wouldn't be the same as the one in the video but it arrived and it is BEAUTIFUL! It is so well made, and even more sparkly in person than I could have imagined! I was worried that it wouldn't be sparkly without the lights on it like in the videos of the dress but even in regular daylight every time you move it shimmers beautifully. The train is MUCH more manageable than it looks in the pictures and it's not itchy on the inside at ALL! The sleeves were a little big but that was likely an error made on my end of measuring because everything else fit absolutely perfectly. It's not very hot either, and truly doesn't feel that heavy when you wear it. It did drop glitter everrrrywhere when I tried it on though so I would suggest doing it in an area that's easy to clean up. The illusion top is literally perfect in every way and the beading on the dress is stunning. I can't even believe it's real! I feel like an absolute princess in it and it moves like a dream, not stiff or poofy at all. Definitely worth the price and I can't wait to show pictures of it from the wedding!
My wedding was a SUCCESS I
You make the most beautiful DRESS EVER!
You literally made my dream come true!
This dress literally stopped traffic I'm telling you!
Everyone thought I was royalty 😍🥹
I was really looking for an extra beautiful dress, and I was absolutely shocked when I saw this dress at Olivia Bottega. It had everything I was looking for and the price was right about our wedding's budget, so I was really inspired. I like to shop online, but wasn't sure whether getting a wedding dress online is a great idea. But after visiting every wedding salon I realized, there isn't a dress that caught my eye nearly as Meryem dress did. So I decided to risk it, and I am soooo glad I did! My favorite part is little tiny cute diamonds around the chest area! Anyways, the quality is absolutely gorgeous, so is the gown. You could actually tell that every bead and sequin is hand placed, every stitch is very decent and boy it is worth every penny. I love the back, i think illusion tulle they call it, a gemstone button line. I thought the dress would be super heavy, but it is very comfortable, despite the longest train ever. I always dreamed of a luxurious wedding and I got one, so I am very happy and truly recommend Olivia's team :)