Free custom sizing
WORLDWIDE SHIPPING
Easy returns
Have you ever seen anything more royal and luxurious ever? We don't think so. Please take a look at our gorgeous Meryem gown, plunging V-neck and the whole corset is strewn with rhinestones, sequins, beads, even pearls and some crystals, and yes - all by hand, so you shine like a star that you are on your special day, what a marvellous view. The A-line silhouette is indeed matching the Queen style, the sleeves are long and also embedded with shiny details, it is like the dress is stating - behold, the masterpiece is here. Light off-the-shoulder motif will add romance and innocence to your perfect look. The skirt is beautifully flowing down your figure and flowing out into the lushest train that will follow you around as you dance or walk. We say this dress will match the bride with a true royalty energy and we're so excited for it.
Skirt: detachable petticoat, lining, tulle, glitter fabric, beaded lace
Top: tulle, nude mesh, glitter fabric, beaded lace (handmade embroidery)
Back: zipper+hidden lace up+buttons
Built-in bust support (no bra required)
Neckline: sheer scoop, off-the-shoulders
Corset boning: yes
Train: 150 cm (59")
SIZE CHART
We made everything easy for you :)
OB SIZE
BUST
WAIST
HIPS
CM
IN
CM
IN
CM
IN
2
77
30,3
58
22,8
84
33,0
4
80
31,5
60
23,6
88
34,5
6
84
33,0
64
25,2
92
36,2
8
88
34,5
68
26,7
96
37,7
10
92
36,2
72
28,3
100
39,3
12
96
37,7
76
29,9
104
41,0
14
100
39,3
80
31,5
108
42,5
16
104
41,0
84
33,0
112
44,0
18
108
42,5
88
34,6
116
45,6
20
112
44,0
92
36,2
120
47,2
22
116
45,6
96
37,8
124
48,8
24
120
47,2
100
39,3
128
50,3
26
124
48,8
104
40,9
132
52,0
28
128
50,4
110
43,3
136
53,5
30
132
52,0
118
46,5
140
55,1
32
136
53.5
124
48,8
144
56.7
34
140
55,1
130
51,2
148
58,3
OB SIZE
2-4
6-8
10-12
14-16
BICEPS
(ARM)
23-25 CM
9-10"
26-28 CM
10-11"
29-31 CM
11-12"
32-34 CM
12-13"
OB SIZE
18-20
22-24
26-28
30-32
BICEPS
(ARM)
35-37 CM
13-14"
38-40 CM
14.5-16"
41-43 CM
16-17"
44-46 CM
17-18"
OB SIZE
BICEPS (ARM)
2-4
23-25 CM
9-10"
6-8
26-28 CM
10-11"
10-12
29-31 CM
11-12"
14-16
32-34 CM
12-13"
18-20
35-37 CM
13-14"
22-24
38-40 CM
14.5-16"
26-28
41-43 CM
16-17"
30-32
44-46 CM
17-18"
HOW TO MEASURE
To choose the correct size for you, measure your body as follows:
1. Bust: Measure around fullest part.
2. Waist: Measure around natural waistline (smallest part)
3. Hips: Measure the widest part of the hips (around your bottom)
1. BUST
Measure around fullest part.
2. WAIST
Measure around natural waistline.
3. HIPS
Measure 20cm down from the natural waistline.
4. SKIRT LENGTH
From the waist line to the floor
5. BICEP
The fullest point of your arm. 
6. SLEEVES LENGTH
From the shoulder through the elbow to the wrist.
7. HEIGHT
Measure your height wearing the heels you will wear on your wedding day.
8. BRA CUP
Bra cup size you usually wear and feel comfortable in.
Shipping & Return Policy
We made everything easy for you :)
Olivia Bottega offers a risk-free 14 calendar day return policy (from the moment you receive your package) to return the item. 
We accept returns under following circumstances:
Goods that we have in stock can be returned regardless of size.

Standart Olivia Bottega's sizes from 2 to 20 according to "OB SIZE".

Accessories: veils, coats, sweaters, face masks, jackets, detachable sleeves, blouses, boleros, detachable straps, bows.

The dress does not have custom changes.
Items not eligible for returns:

Customized or personalized orders.

Goods size 20+ (In stock and ready to ship dresses can be returned regardless of the size).

Custom size dresses.

Sketches and swatches.

Items marked as 'sale' or purchased with a discount of 11% and more, aren't refundable.

Items damaged or soiled when in the buyer's possession.
We offer free USA & worldwide shipping on orders over $300. All international orders are sent via DHL which takes between 2-18 business days to arrive. 
USA, Canada: 4-11 business days
Europe: 2-11 business days
Australia, New Zealand and Oceania: 6-18 business days
The PERFECT Dress
This dress was absolutely perfect for the most perfect day. I was extremely nervous to purchase a large dollar-valued item online, but the process was smooth, easy and the Olivia Bottega team gave me comfort in knowing I was going to have exactly what I wanted for the big day. Kate was extremely pleasant to work with and answered any and all questions I had throughout the process of my dress being purchased, made and shipped. Every detail on this dress is gorgeous and yes, it is a bit heavy but absolutely worth it. The amount of compliments I have received (wedding day & beyond) on how incredible this dress is, has been overwhelming - in a good way!
Thank you again for making this special day one that I will remember forever!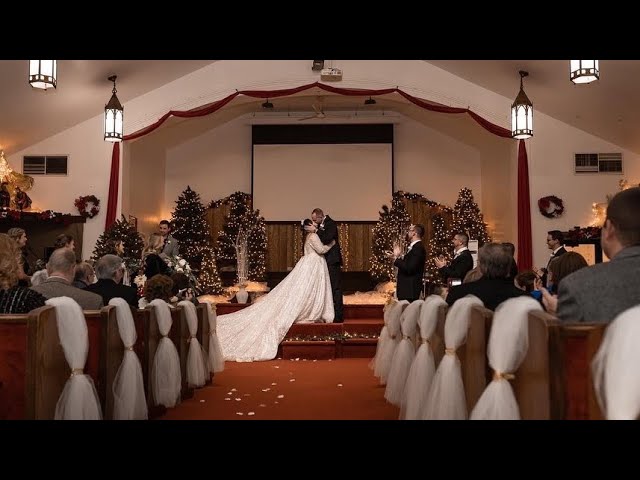 This is the princess dress dreams are made of!
I just received my dress and I was SO relieved to find it was EXACTLY as I expected it to be. I was so nervous to order because there weren't a lot of reviews for the dress and because it was coming from so far away. The team communicated with me any time I had any questions, and sent me a video of the dress before they shipped it. Even then I was worried the dress I got wouldn't be the same as the one in the video but it arrived and it is BEAUTIFUL! It is so well made, and even more sparkly in person than I could have imagined! I was worried that it wouldn't be sparkly without the lights on it like in the videos of the dress but even in regular daylight every time you move it shimmers beautifully. The train is MUCH more manageable than it looks in the pictures and it's not itchy on the inside at ALL! The sleeves were a little big but that was likely an error made on my end of measuring because everything else fit absolutely perfectly. It's not very hot either, and truly doesn't feel that heavy when you wear it. It did drop glitter everrrrywhere when I tried it on though so I would suggest doing it in an area that's easy to clean up. The illusion top is literally perfect in every way and the beading on the dress is stunning. I can't even believe it's real! I feel like an absolute princess in it and it moves like a dream, not stiff or poofy at all. Definitely worth the price and I can't wait to show pictures of it from the wedding!
My wedding was a SUCCESS I
You make the most beautiful DRESS EVER!
You literally made my dream come true!
This dress literally stopped traffic I'm telling you!
Everyone thought I was royalty 😍🥹
I was really looking for an extra beautiful dress, and I was absolutely shocked when I saw this dress at Olivia Bottega. It had everything I was looking for and the price was right about our wedding's budget, so I was really inspired. I like to shop online, but wasn't sure whether getting a wedding dress online is a great idea. But after visiting every wedding salon I realized, there isn't a dress that caught my eye nearly as Meryem dress did. So I decided to risk it, and I am soooo glad I did! My favorite part is little tiny cute diamonds around the chest area! Anyways, the quality is absolutely gorgeous, so is the gown. You could actually tell that every bead and sequin is hand placed, every stitch is very decent and boy it is worth every penny. I love the back, i think illusion tulle they call it, a gemstone button line. I thought the dress would be super heavy, but it is very comfortable, despite the longest train ever. I always dreamed of a luxurious wedding and I got one, so I am very happy and truly recommend Olivia's team :)